Commercial Water Damage
5/24/2023 (Permalink)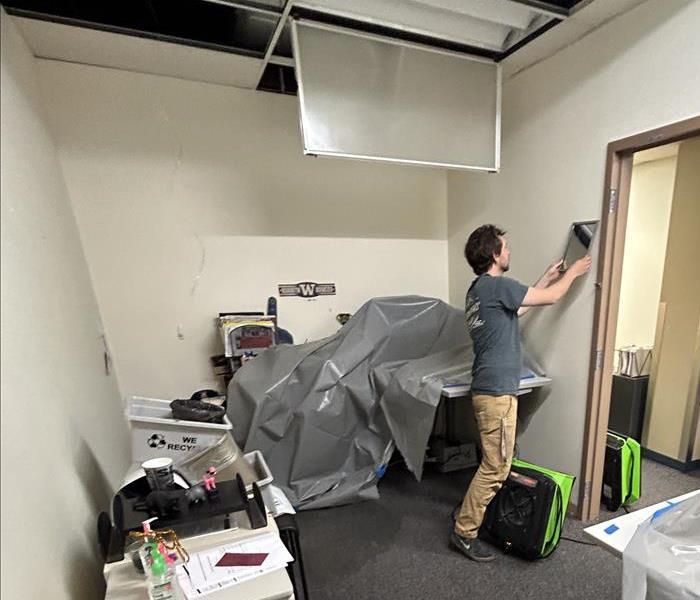 One of our Crew Chiefs, Alex, working hard cleaning up the damage left behind by a commercial water damage
Water damage is a common problem that can occur in commercial buildings. It can be caused by a variety of factors including floods, leaks, burst pipes, and storms. When water damage occurs it can cause significant damage to the building and its contents. In this blog post, we will discuss the importance of addressing water damage in commercial buildings and the steps that should be taken to mitigate the damage.

The Importance of Addressing Water Damage in Commercial Buildings

Water damage can have a significant impact on commercial buildings. It can cause structural damage, mold growth, and damage to equipment and inventory. Mold growth, for example, can cause respiratory problems and other health issues. Therefore, it is important to address water damage as soon as possible to prevent further damage and ensure the safety of those who work in the building.

Steps to Mitigate Water Damage in Commercial Buildings
Identify the Source of the Water Damage

The first step in mitigating water damage is to identify the source of the water. This could be a leaky roof, burst pipe, or flooding. Once the source of the water is identified, steps can be taken to stop the water from entering the building.

2. Remove Standing Water

If there is standing water in the building, it should be removed as soon as possible. This can be done using pumps or wet vacuums. The longer the water sits the more damage it can cause.

3. Dry the Area

After the standing water has been removed; the affected area should be dried as quickly as possible. This can be done using fans, dehumidifiers, and other drying equipment. It is important to ensure that the area is completely dry to prevent mold growth.

4. Clean and Disinfect

Once the area is dry it should be cleaned and disinfected. This will help to prevent mold growth and remove any bacteria or other contaminants that may be present.

5. Repair and Restore

Finally any damage that has been caused by the water should be repaired and restored. This may include replacing damaged drywall, flooring, or other materials. It is important to ensure that the repairs are done correctly to prevent future water damage.


Water damage can have a significant impact on commercial buildings. It is important to address water damage as soon as possible to prevent further damage occurring or to reduce the risk of mold growth.