Sump Pump Maintenance Basics
11/12/2021 (Permalink)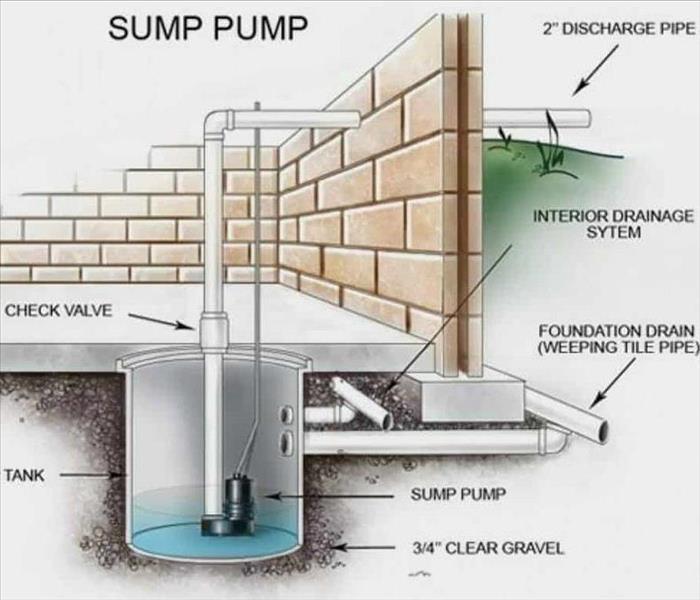 With heavy rains this Fall, have peace of mind by checking off that your sump pump is in working order.
Sump pumps can prevent water from flooding the basement or crawlspace of your Camas, WA home. These pumps must be regularly cleaned and maintained in order to function properly. Learn the basic principles of keeping the sump pump in your home working and ways to ensure that it will operate in an emergency situation without electricity.
Keep the Pump Clean and Functional
Dirt, gravel, and other types of debris may cause blockages that force a pump to work harder to do the same amount of work. Pump maintenance involves regularly cleaning out the
Bottom grate
Discharge pipe
Intake screen
Pit
Vent hole
You should also check the operation of the float mechanism. Buildup or malfunctions may result in damage to the pump or an eventual overflow.

Check Power Sources and Alarms

A sump pump should plug into a ground fault circuit interrupter or GFCI outlet. Make sure that
The outlet is functional
The power cord is in good condition
The backup battery is replaced every two to three years
Some pumps have battery-powered water level alarms. If your model features emergency notifications, you should
Turn on alerts
Know what alerts mean
Be able to receive alerts
Newer models may send alerts to a cell phone so that you will receive water level warnings no matter where you are.

Consider Backup Solutions

If the pump in your home does not have a back-up battery, you can rely on an alternative power source such as a
Car battery
Deep cycle boat battery
Generator
You may also want to consider a back-up water-powered pump that is capable of working without a power source.

Cleaning and maintaining a sump pump can prevent flooding in the basement or crawlspace of your home. If a pump and backups fail and water levels start to rise, rely on SERVPRO of E. Vancouver/Clark County for damage mitigation services.