What You Need to File a Water Damage Claim
5/24/2021 (Permalink)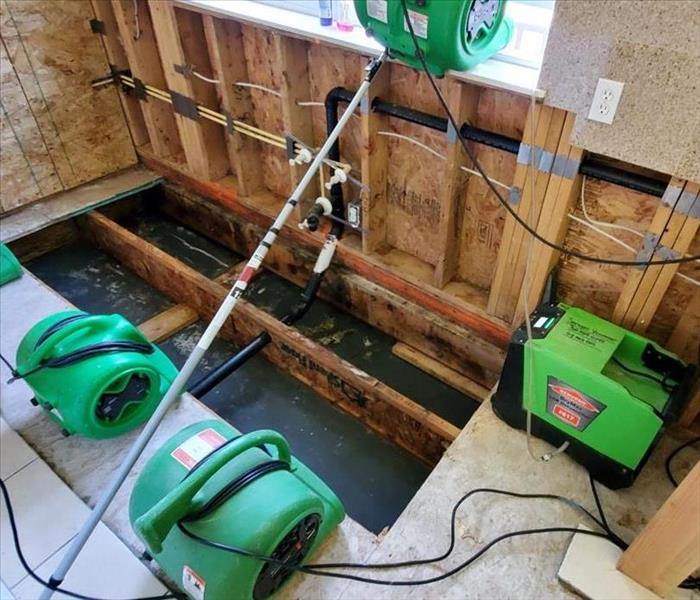 This kitchen experienced a leak that went unnoticed causing the damage to spread. Here you see drying equipment placed in the mitigated kitchen.
Documentation is required to file a homeowners insurance claim for water damage. A policyholder should provide photos, videos, maintenance records, and proof of purchase to an insurer as evidence of damage caused by a pipe burst or any type of leak. In this blog you can learn more about what information a homeowner should gather as he or she prepares to file a claim for water damage.
Proof of Damage
Insurers will want to see proof of the full extent of the damage. There are several types of useful documentation:
Photographs
Video
Footage dated prior to an incident


These records indicate that damage was caused by the incident that led a homeowner to file an insurance claim. It is important to document damage before taking any steps toward mitigation. Homeowners may also benefit from being able to produce maintenance records indicating that the incident was not due to negligence. Even if an insurer does not cover the cause of damage, coverage should be available for the effects.

Proof of Purchase

It can also be helpful to gather receipts or other proof of purchase for damaged contents. Check your policy to ensure that the replacement cost of items is covered rather than the actual cash value. Given depreciation, the latter may not be sufficient to replace items with severe damage.

A Restoration Estimate

Insurers prefer to work with an established water damage mitigation and restoration company. Obtain an estimate for the cleanup and restoration processes by contacting a company that provides both services. This calculation may be more accurate and complete than estimates from more than one business.

All of this information can help a homeowner filing an insurance claim for water damage. Be aware that homeowners insurance does not cover any damage caused by flooding. A separate flood insurance policy is necessary for damage resulting from heavy rains or rising bodies of water in Camas, WA.
If you need any assistance with providing proper documentation to your insurer, please don't hesitate to ask for our help. We will also help you provide a list of all of your home's belongings.
Give us a call day or night! (360) 254-0049