Top Winter Fire Hazards
2/8/2021 (Permalink)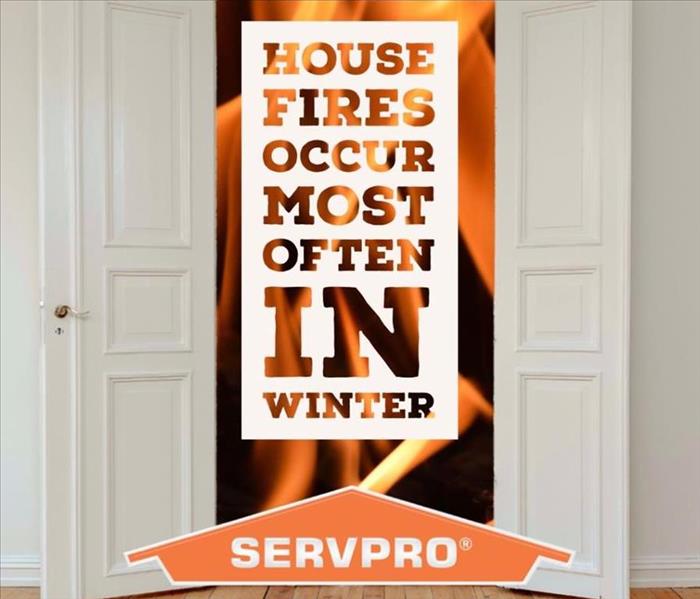 For information on fire damage restoration services, call SERVPRO of Vancouver/ Clark County at (360) 254-0049
To experience a house fire is traumatic. Within minutes, the home can be engulfed in flames. According to the American Red Cross, "Home fires can happen at any time, but they generally increase during the fall and winter, with December and January being the peak months. Home fires are also more common on Saturday and Sunday and tend to peak between 6:00 PM and 7:00 PM.
Here are the top residential fire hazards.
Cooking Fires
More house fires start in the kitchen than any other room in the house. Grease fires are a leading cause of kitchen fires. To prevent a cooking fire, never leave the kitchen unattended while food is cooking on the stove.
Heating Equipment Fires
To prevent this winter fire hazard, keep combustibles at least three feet away from the heat source. Combustibles include furniture, curtains, and pets. Have the chimney and wood stove inspected and cleaned annually.
Over time, dust can build up in a space heater and create a fire hazard. Annually cleaning the heater is strongly advised. Do not use an extension cord with a space heater, and do not plug the heater into an overloaded circuit.
Candle Fires
Candles are one of the most common causes of house fires during the winter months. The month of December is the peak time for candle fires in the home. Consider using electric or solar candles. Extinguish candles when they are not in use or if they are left unattended.
Electrical Fires
Avoid overloading circuits or receptacles. Carefully inspect extension cords before usage since a frayed or damaged cord could cause a fire or result in electrocution and death. The few extra dollars spent on a properly rated heavy-duty extension cord could save thousands in fire damage or hospital bills.
Fireworks
According to the National Fire Protection Association, "Fireworks started an estimated 19,500 fires in 2018, including 1,900 structure fires, 500 vehicle fires, and 17,100 outside and other fires. These fires caused five deaths, 46 civilian injuries, and $105 million in direct property damage."
Nevertheless, fireworks are popular. Following the manufacturer's directions, including adult supervision, is strongly recommended.
Grills and fire pits
Position the grill or fire pit at least ten feet away from any structure. A clean grill is a safe grill. Never leave a grill or fire pit unattended. Keep a fire extinguisher or bucket of sand nearby in case the fire gets out of control.
Finally, have working smoke and carbon monoxide detectors on every floor of the house and inspect them regularly. Install ten-year, long-life batteries in the detection units. Locate fully charged and working fire extinguishers in the kitchen, garage, and near the Christmas tree. Have an evacuation plan in place so that, in the stressful environment of a fire, everyone knows what to do and where to go.