It Pays to Stay Healthy
12/15/2020 (Permalink)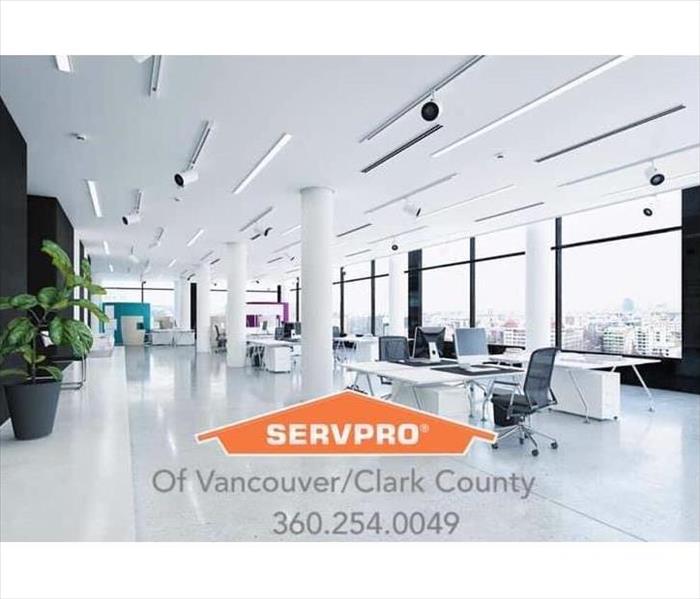 Be proactive and call SERVPRO for competitive rates and become Certified: SERVPRO Cleaned! (360) 254-0049
Time is money in the workplace. So both employers and employees can not afford lost work time due to sickness. According to a recent study by the Integrated Benefits Institute, employees covered for sick time and other lost time benefits are absent from work due to illness. And it's approximately 893 million days annually. Impaired work performance due to illness incurs an estimated 527 million lost workdays.
The number of employee absences totals at almost 1.4 billion days annually, which is larger than every nurse in the US missing a year of work.
To put this in further context, the cost of poor health to employers is greater than the combined revenues of Apple, Amazon, Microsoft, Netflix, eBay, and Adobe," said Thomas Parry, Ph.D., IBI President.
Whatever the expenses maybe, promoting and maintaining a healthy workplace and a healthy workforce yield a significant return on investment (ROI).
The emergence of the coronavirus, COVID-19, a contagious disease caused by severe acute respiratory syndrome coronavirus 2 (SARS-CoV-2) shows only mild symptoms in most cases which include fever, cough, and shortness of breath. Some people experience muscle pain, mucus, and sore throat, as well. Some cases do progress to pneumonia and more serious illness. The fatality rate is estimated between 1% and 5% but varies by age and other health conditions. The infection spreads through respiratory droplets from coughing. Once a person has been exposed to COVID-19, the onset of symptoms is, on average, about five days.
SERVPRO of Vancouver/ Clark County encourages everyone to protect themselves and others by following the precautions offered by the CDC. They recommend the following measures:
Washing hands often with soap and water for at least 20 seconds or use a hand sanitizers.
Avoid close contact with people who are sick.
Avoid touching the eyes, nose, and mouth with unwashed hands.
Seek medical attention if one becomes sick, then stay home and self-quarantine until recovery.
Cover the nose and mouth with a tissue when coughing or sneezing.
Wear a facemask in public places.
Clean and disinfect frequently touched surfaces daily.
Workplace Specific Health Strategies
What can employers do to promote a healthy work environment in light of COVID-19 or any other infectious diseases?
A simple and efficient path to promote workplace health includes the following items:
Encourage hand washing with real soap for at least 20 seconds.
Put hand sanitizer in numerous stations around the office or facility.
Provide disinfectant wipes for employees to wipe down surfaces such as keyboards, mouse, desk, chair, pens, stylus, pencils, touch screens, etc.
Allow employees to wear disposable gloves.
Remind employees of the company's sick policy. Sharing COVID-19 or Influenza with workspace mates or the production crew could be very costly to all involved parties.
Coordinate with the facility cleaning team regarding special measures to be taken during flu season or during periods of significant employee sickness.
These measures are very basic yet they go a long way to keep the workplace healthy and happy.