How SERVPRO Restored a Vancouver Flood Damaged Home
6/13/2019 (Permalink)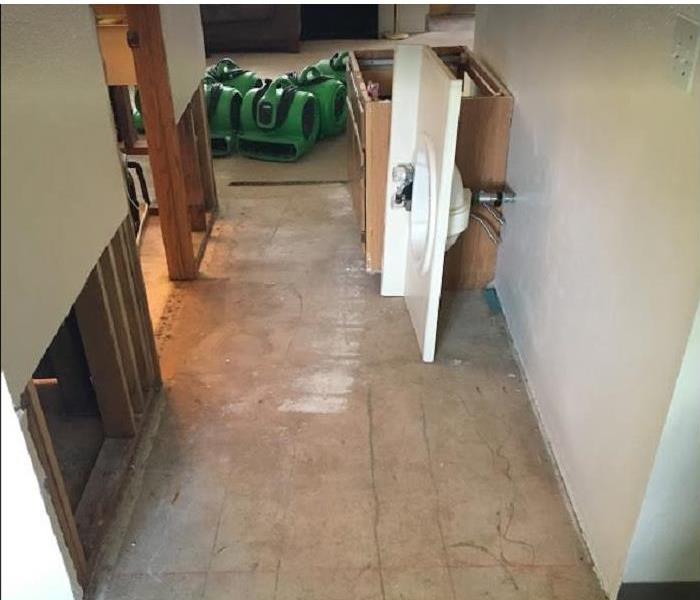 Sometimes we have to remove sheet rock to dry a flood water. But we always make it "Like it never even happened."
SERVPRO Helps Vancouver Homeowner with Flood Removal
Water that enters a home from a storm is one of the most severe types of damage. Flash floods can happen with little to no warning, and the best thing you can do is turn off your electricity and evacuate because groundwater has a rating as a category three biohazard also known as "black water." Then get cleanup efforts beginning as quickly as possible.
When SERVPRO answered a call from a homeowner who requested flood removal in their Vancouver home, our team arrived a short time after the call. The electricity was off in the house, so we used our generators to power our portable pumps and extracted the standing water that remained in the home. We scoped the rooms to determine all the areas the water migrated into so all areas that required extraction.
The sheetrock retained stains from how high the water had once been, and we used a controlled demolition technique known as a "flood cut" where we cut away damage sheetrock roughly six inches above the waterline. Unfortunately, the carpeting had exposure to black water and required removal as a water loss.
When many areas of a home receive damage from flood water, the best outcome is to get the house ready for rebuilding. Our technicians have certifications in a diverse number of restoration sciences, our goal is to restore rather than replace, but in the case of items exposed to black water, it is not always an option.
We thoroughly dry the property and monitor moisture levels within floor joists and wall cavities to ensure there are no issues with mold. Once the affected areas reach our preset drying goals, we clean and disinfect surfaces. Then we perform any needed odor removal applications.
After completion of the remediation on the property, we gave the homeowner and adjuster a report of the cleanup procedures done as well as the necessary repairs to return the property to preloss condition.
SERVPRO of E. Vancouver / Clark Co. at (360) 254-0049 when you need flood removal. We use the latest restoration techniques and equipment to make your water loss "Like it never even happened."
Esther Short Park in Vancouver is the oldest public square in the West. Read more here.