Vancouver Enterprises Rely on SERVPRO for Water Damage Mitigation
5/27/2019 (Permalink)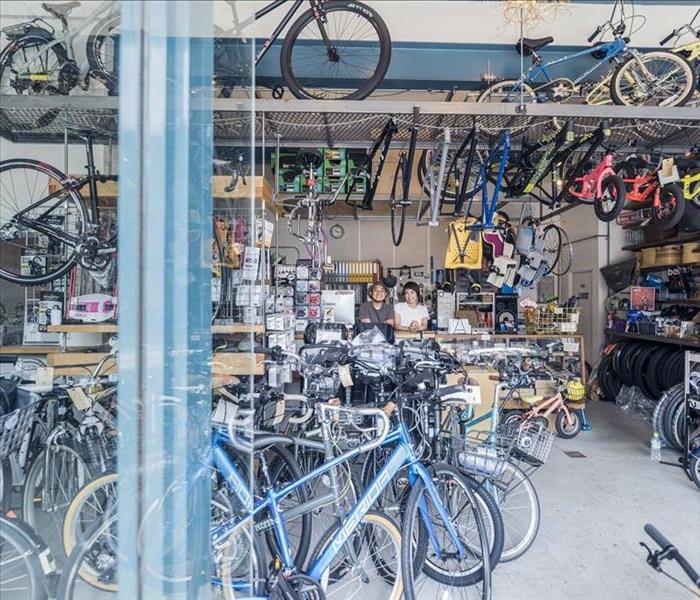 SERVPRO Keeps Small Businesses Open after a Water Loss in Vancouver, We're Faster To Any Size Disaster
Eliminating Commercial Water Damage for Vancouver Business Owners
Despite being right on the Columbia River, much of the flooding Vancouver businesses deal with is much more mundane. Common water intrusion problems include failed sprinklers, broken pipes, and backed-up plumbing.

To support Vancouver business owners and reduce commercial water damage, SERVPRO specialists train to perform several key tasks. They have to stop the flow of water, make repairs where possible, and dry the inventory. For a small, retail operation like a bike shop, our Water Restoration Technicians (WRTs) break it down like this:

First, they turn off the water. If possible, that means shutting off the flow to only the problem so that the owner can still use the other areas of her business and perhaps even reopen to customers. If a pipe burst close to the water inlet, however, the WRTS need to shut off the water for the entire operation.

For minor issues such as a pipe connection, or a split hose leading into a commercial sink, they can quickly make those repairs in a few hours. For major issues, the team leader may recommend bringing in a licensed plumber. In this operation, WRTs use long-handled squeegees to push water off the floor and out the nearest exit or floor drain.

With the water stopped, other SERVPRO team members move in to dry inventory on the shelves. They place drying pads underneath to soak up water and install height-adjustable fans to increase air circulation and the evaporation process. To increase the efficiency of the air movers, WRTs also install dehumidifiers to draw water from the air. This action also helps to speed up evaporation and mitigate damage or prevent loss to inventory parts and the danger of rusting.

For bikes and other inventory on the floor, team members can bring in racks to help dry them in place, or remove them outside to take advantage of the drier air and connect fans to a portable generator to dry them as quickly as possible.

If your business has a problem with recent or not-so-recent water intrusions, call SERVPRO of E. Vancouver / Clark Co. at (360) 254-0049. We are here to help you reopen for customers as quickly as we can return your shop to its original, dry condition.
It is Small Business Month here.