Personal Protective Gear for Mold Technicians
4/11/2019 (Permalink)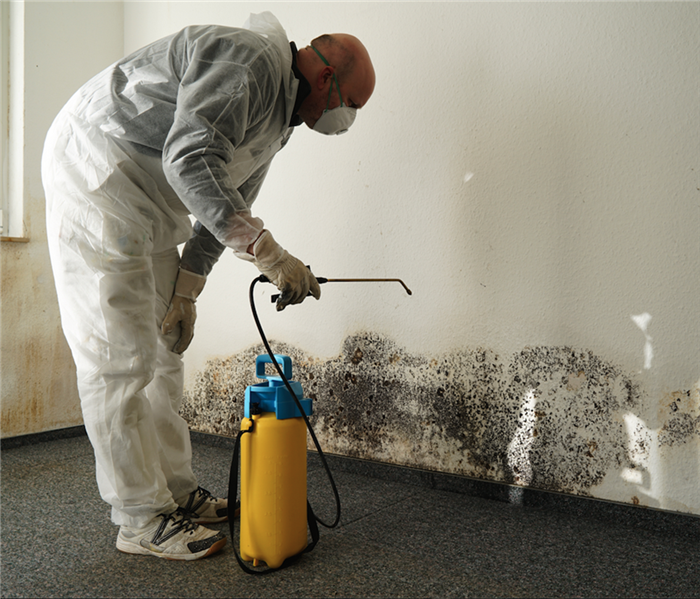 Our technicians will clean the affected area with professional grade cleaning and sanitizing agents for your comfort and safety.
Protective Gear For Technicians
When mold remediation and cleanup professionals arrive at your Vancouver, WA, property to tackle mold growth, you may be surprised to see how much gear is necessary to protect technicians. Agencies, such as the Occupational Safety and Health Administration and the Environmental Protection Agency have provided recommendations concerning the personal protective equipment of industry technicians. Recommendations are provided for the following gear:

• Gloves
• Respirators
• Goggles
• Overalls
• Foot coverings

Determining PPE Gear

The type of gear is often dependent upon the extent of mold growth. If the extent of growth is minimal, a technician may work with strong gloves, an N-95 respirator, and a pair of protective glasses. If there's wide spread growth, however, the technician may suit up with a disposable full body suit, head gear, foot covers, a full-face respirator with a HEPA filter, and gloves.

Using Containment Equipment

In addition to the equipment used to protect technicians, mold remediation companies may use containment supplies. According to the EPA, there are two types of containment: limited and full. Limited containment is appropriate in areas where contamination is between 10 and 100 square feet. If the exposure area is greater than this, full containment methods are required. The goal of containment is to prevent the further spread of mold. Containment equipment may include

• Exhaust fans
• Polyethylene sheeting
• Sticky-backed paper
• Duct tape and/or epoxy
• Airlocks
• Waste containers

Cleaning the Air With Filters

Finally, remediation professionals may use HEPA filters to trap and eliminate mold spores. HEPA stands for high efficiency particulate air, and these filters are great at trapping the microscopic spores. Approved filters can capture at least 99.97 percent of pollutants that measure just 0.3 microns. These filters trap airborne spores and hold them within the filter. When the filter is full, professionals discard them and replace them with new filters.

When mold cleanup and remediation professionals work on commercial properties, they take steps to protect themselves and your property from contamination. With the right protective equipment, containment supplies, and HEPA filters, cleanup technicians are ready to tackle mold growth on your property.